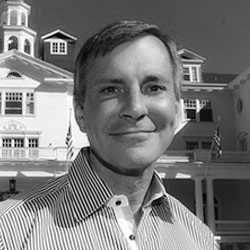 Mr. Cullen has been active in the lodging industry for 28 years acting primarily in the roles of owner/operator of boutique independent hotels around the world.  Currently Mr. Cullen is President & CEO of Grand Heritage Management LLC, the company he founded in 1989 and Owner of Grand Holdings, LLC, the owner of several hotels in USA, Mexico and UK.
Through the years, Grand Heritage Management, LLC, under Cullen's leadership has owned hotels ranging from The Governor and Avalon in Portland, Oregon, Casa del Mar in Los Cabos, Mexico, Providence Biltmore, Peaks Resort & Spa, Telluride and the legendary Stanley Hotel in Estes Park, CO.   Additionally, GHM managed properties in Mexico, Qatar, Egypt, and Italy.
The Stanley Hotel in Estes Park, Colorado has been and always will be Cullen's favorite hotel and passion.  Between 2008 and 2017, Cullen has bought out all other ownership and invested almost $31 million in The Stanley.  Major projects include Aspire Hotel (opened 3Q2016), Pavilion (opens 4Q2017), Aspire Spa (opens 3Q2018) and Overlook/Stanley Residences (launch in 1Q2018).
Grand Heritage was selected in 2014 over ten other USA hotel groups to be the owner/ operator as well as the managing partner of the Peaks Resort development in Chesterfield, U.K., approximately two hours north of London.   The project is 300 acres of prime property just outside the Peak National Park with extremely rare and valuable 1.5Million sqft. of planning permission.  It is Cullen's intent to develop the project as a "Stanley 2.0" with 18 core buildings and tenants along with a 150-room Aspire Hotel, a 350-unit Sheffield student accommodations/hostel, 270 cottages and a waterpark.
Future projects include the Stanley FilmCenter using a $12m grant from the State of Colorado, 72-unit workforce accommodations, 100-unit student/internship building and a wellness center joint-venture with a major healthcare provider.